A 2020 Silverado HD pickup truck at the GM assembly plant in Flint, Michigan, in 2020. Owners of vehicles like this that weigh more than 6,000 pounds will face additional fees in Washington, D.C.
Photographer: Jeff Kowalsky/Bloomberg
By
David Zipper
May 26, 2022, 10:00 AM EDT
Imagine that you, a city resident, are contemplating swapping out your mid-sized sedan for a full-sized pickup truck. And not just any pickup truck; your eye has fallen upon a heavy-duty one, like the Chevy Silverado HD or the Ford F-250. These are machines intended for towing and hauling, but they're increasingly popular as passenger vehicles in the US, despite their massive proportions. At 6,695 pounds, the F-250 is 23 inches taller and more than twice as heavy as a Honda Accord.

Such oversized vehicles exacerbate problems across all kinds of communities, but none more so than dense urban neighborhoods full of pedestrians and cyclists. Driving a large pickup or SUV increases the likelihood you'll kill or injure someone; its thirsty power plant (the F-250 gets 15 mpg) spews more air pollution and greenhouse emissions.


If you're a city or state leader, you have a limited arsenal of tools available to discourage residents from operating these behemoths on local streets. A proposal from the District of Columbia would add a new one: The city is poised to require owners of vehicles weighing over 6,000 pounds to pay an annual $500 vehicle registration fee], almost seven times the cost to register a modest sedan. No other US jurisdiction has created such a forceful financial disincentive against the biggest, heaviest car models.

"You can't ban sales of these things," says Mary Cheh, a D.C. councilmember who developed the new fee structure, "but you can make them pay their own way."

Other state and local leaders alarmed by "truck bloat" would be wise to study the D.C. law, which represents a first-of-its-kind effort to address the negative externalities — or costs borne by others — associated with larger, heavier SUVs and trucks. To date, the federal government has largely ignored such societal downsides. Although pedestrian fatalities are surging in the US, the National Highway Traffic Safety Administration recently declined to add pedestrian crashworthiness to its crash test ratings program, which could have penalized the biggest models. (Most other developed countries added these tests years ago.)

D.C.'s approach revolves around vehicle registration fees, the modest amounts that residents pay to state departments of motor vehicles in order to legally operate their car or truck. Some states set a flat fee (Maine, for instance, charges $35 per year) while others adjust theirs based on the age of the car (Idaho charges $45 to $69 per year). A handful of states lightly scale registration costs to vehicle weight, including Florida, which collects $22.50 annually for cars under 3,500 pounds and $10 extra for those weighing more.

A unique city/state hybrid, Washington, D.C., has historically imposed some of the highest vehicle registration fees in the United States. At present, registering a vehicle under 3,500 pounds costs $72 per year, rising to $115 for those between 3,500 and 5,000 pounds, and maxing out at $155 for heavier models.

But Councilmember Cheh believes that that carmakers' addiction to adding weight and height demands a regulatory rethink. "The size and weight of these vehicles has become ginormous," she said. "When cars and pedestrians or cyclists come into contact, we know that the heavier the car, the worse the accident will be."

During this year's budget process, Cheh proposed overhauling the city's vehicle regulation framework. Annual fees for machines under 3,500 pounds would remain at $72/year, while those from 3,500 to 5,000 pounds would now cost $175. The fee for registering a car between 5,000 and 6,000 pounds would rise to $250. The biggest hit is aimed at a new category created for SUVs and trucks weighing over 6,000 pounds: Their owners would now have to shell out $500 per year.

In other words, a D.C. resident registering a heavy-duty pickup or SUV who would have paid $775 over five years in the old fee structure will now have to fork over $2,500. Notably, no exception is available for residents claiming that they need a heavy-duty truck or SUV for their work. (Cheh says the issue hasn't come up.)

Cheh sees the hiked fees as "a kind of proportionality" for the damage caused by the heaviest vehicles, but she doesn't expect them to be the decisive factor for all car buyers. "The bigger thing is going to be the cost of gas," she said.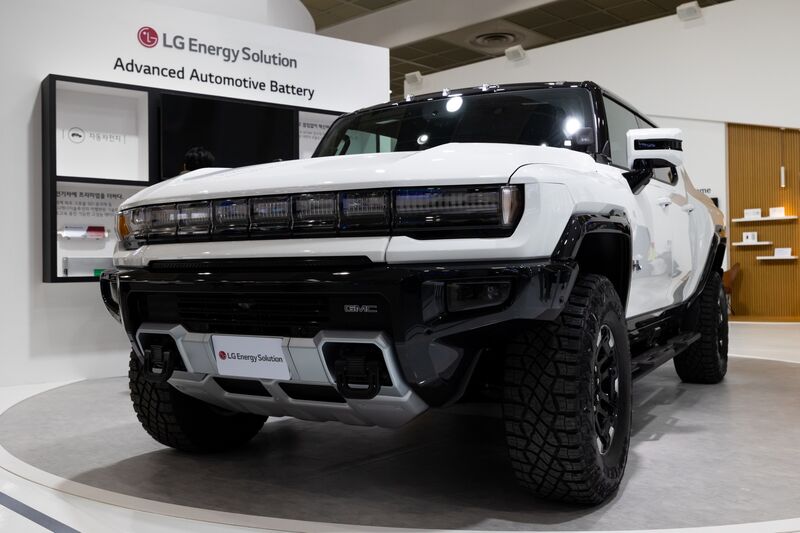 A GMC Hummer EV tips the scales at more than three tons.
Photographer: SeongJoon Cho/Bloomberg
Unless, of course, the car buyer opts for an electric vehicle that needs no gas at all. Numerous EVs, including the 9,000-pound GMC Hummer EV, already crack the three-ton mark. Cheh has proposed that electric vehicles, whose batteries often add weight compared to an equivalent gas-powered model, be subject to the same sliding scale of registration fees — but with a 1,000-pound credit intended avoid standing in the way of electrification.

D.C.'s budget analysts have projected that the new fee structure would contribute around $40 million to the city's general fund over the next five years. Cheh calls that estimated revenue an "added benefit," and she hopes to see the money allocated toward enhanced street safety efforts.

Her proposal has sailed through D.C.'s city council, receiving unanimous approval first from the Committee on Transportation and the Environment and then as part of the city's overall budget package, which was approved this week. Assuming Mayor Muriel Bowser signs the budget into law, the city's new vehicle fee structure will become the first of its kind in the US.

European lawmakers, on the other hand, are already targeting truck bloat. Last year the mayor of Tübingen, Germany, proposed a 600% increase in parking fees for SUVs, to €180, declaring that "there should be a noticeable difference between the fees small city cars and big sport utility vehicles have to pay, which actually aren't needed in the city." In France, new non-electric cars are taxed an extra €10 for each kilogram over 1,800 kilograms (about 4,000 pounds).

No such measures have been adopted in the US, where comparatively low gasoline taxes already give SUVs and trucks a leg up in the marketplace. Despite Department of Transportation Secretary Pete Buttigieg declaring a "national crisis" in road safety — and unveiling a National Roadway Safety Strategy acknowledging that bigger, taller vehicles are more likely to cause serious pedestrian injuries — the federal government seems as disinterested as ever in discouraging the largest models, which are more profitable for automakers. President Joe Biden even took a spin in a Hummer EV last year to celebrate the newest wave of heavyweight EVs, which are poised to make today's road safety challenges even worse.

With traffic fatalities climbing and the effects of climate change growing more dire, passage of the District's new fee structure could serve as a model. Even if federal officials continue to turn a blind eye, state and local leaders need not stand by while drivers of these massive vehicles impose costs on everyone else around them. Instead, they can send motorists a clear message: If you want to buy a mammoth-sized vehicle, no one is going to stop you — but you're going to have to pay extra.