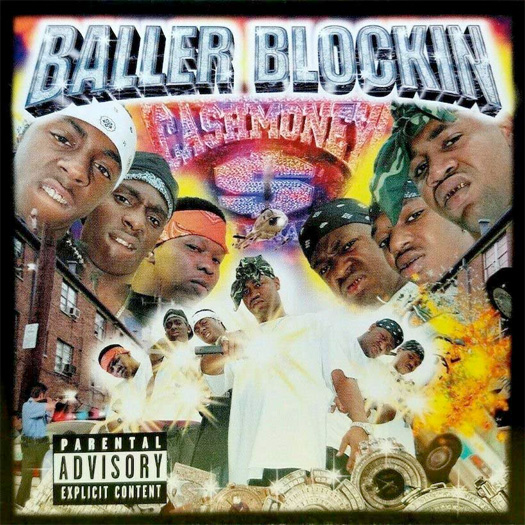 Cash Money Records will be re-releasing their "Baller Blockin'" official soundtrack and movie on the 20th anniversary – November 20th, 2020.
The special 20th anniversary edition of "Baller Blockin'" will include the soundtrack as a physical CD and as a vinyl. On the anniversary, the film will also be made available digitally for the first time ever.
Lil Wayne
is featured on the soundtrack a total of 3 times – "Project B!#$H", "Calling Me Killer" and "I Don't Know", and also stars in the action-comedy/drama along with Juvenile, B.G., Turk, Birdman, Slim, Mannie Fresh, A.J. Johnson, and T.K. Kirkland.
Click
here
to pre-order the 20th anniversary edition of the "Baller Blockin'" album, vinyl and movie for $179.98. If you have not yet watched the film that was set in the New Orleans 3rd Ward (mostly around the Magnolia Projects) or want to know more information about it, you can do so
here
!
Bryan "Birdman" Williams: "This one has been a long time coming. For years, everybody's asked me: 'When are you going to put out Baller Blockin again?' We wanted to meet that audience demand at the highest level possible. This is really the definitive version of one of our most unforgettable projects. I'm excited for fans to experience it like it was always meant to be experienced."

Ronald "Slim" Williams: "'Baller Blockin' showed us this movement was bigger than music. At the time, the South wasn't what it is now in hip-hop. We wanted to go as big as possible, and it's really the first time of many that we did just that. It was a precursor of everything to follow, and it's very special to all of us."
Baller Blockin' tracklist (vinyl):
Side A
1. Lovely & Atrice – "Intro"
2. Turk, Baby, & Juvenile – "Baller Blockin'" [feat. E-40]
3. UGK – "Family Affair"
4. Juvenile – "Rover Truck"
5. Ziggly Wiggly – "Skit"
SIDE B
1. Big Tymers, Lil Wayne, & Juvenile – "Project B!#$H"
2. 8Ball & MJG – "Ballin' Gs"
3. B.G. – "Thugged Out"
4. Unplugged – "Don't Cry"
SIDE C
1. Nas & Bravehearts – "What You Gonna Do"
2. Lil Wayne – "Calling Me Killer"
3. TQ – "I Got To GO"
4. Baby, Lac & Stone – "Whatever"
5. Big Tymers, Turk & B.G. – "Let Us Stunt"
SIDE D
1. Ziggly Wiggly – "Skit"
2. Mack 10 & The Comrads – "Milk & Honey"
3. Turk – "Uptown" [feat. B.G.]
4. Unplugged – "I Don't Know" [feat. Lil Wayne]
5. Rappin' 4-Tay – "Win Or Lose"
Baller Blockin' tracklist (CD):
1. Lovely & Atrice – "Intro"
2. Turk, Baby, & Juvenile – "Baller Blockin'" [feat. E-40]
3. UGK – "Family Affair"
4. Juvenile – "Rover Truck"
5. Ziggly Wiggly – "Skit"
6. Big Tymers, Lil Wayne, & Juvenile – "Project B!#$H"
7. 8Ball & MJG – "Ballin' Gs"
8. B.G. – "Thugged Out"
9. Unplugged – "Don't Cry"
10. Nas & Bravehearts – "What You Gonna Do"
11. Lil Wayne – "Calling Me Killer"
12. TQ – "I Got To GO"
13. Baby, Lac & Stone – "Whatever"
14. Big Tymers, Turk & B.G. – "Let Us Stunt"
15. Ziggly Wiggly – "Skit"
16. Mack 10 & The Comrads – "Milk & Honey"
17. Turk – "Uptown" [feat. B.G.]
18. Unplugged – "I Don't Know" [feat. Lil Wayne]
19. Rappin' 4-Tay – "Win Or Lose"
Cash Money Records To Release 20th Anniversary Edition Of "Baller Blockin" Soundtrack & Movie