Joined

Jul 8, 2017
Messages

38,108
Reputation
Daps

148,917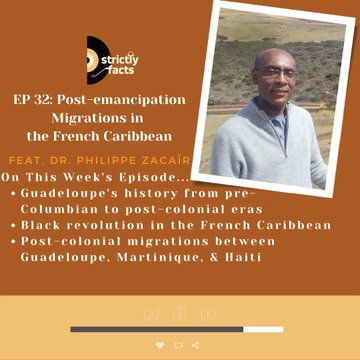 Couldn't embed, link to episode here.
Post-emancipation Migrations in the French Caribbean with Dr. Philippe Zacaïr by Strictly Facts: A Guide to Caribbean History and Culture
In a similar fashion to other Caribbean islands, Guadeloupe, Martinique, and Haiti remained in close connection throughout France's colonialism. Dr. Philippe Zacaïr joins this episode to discuss how these connections strengthened after Haiti's triumph as the first Black republic in 1804.
Philippe Zacaïr was born and raised in Guadeloupe, in the Eastern Caribbean. He received his Ph.D. in history in 1999 from the University of Paris-Sorbonne Nouvelle in France. He has been a faculty member of the History Department of California State University Fullerton since 2002. He teaches Latin American, Caribbean, and world history. He is the editor of Haiti and Haitians in the Wider Caribbean (University Press of Florida, 2010). His work has appeared in Cahiers du Monde Hispanique et Luso-Brésilien, Caribbean Studies, The Journal of Caribbean History, French Colonial History, the Bulletin d'Histoire de la Guadeloupe, and Recherches Haïtiano-Antillaises. His current research projects explore political and economic migrations within the Caribbean basin after the abolition of African slavery, and the relations between the Republic of Haiti and the French Caribbean colonies of Guadeloupe and Martinique until the turn of the twentieth century.
Last edited: