Joined

May 25, 2012
Messages

8,040
Reputation
Daps

20,320
Reppin
I was extremely annoyed to see Noam Chomsky urging Ukraine to make concessions to Russia, in
a recent interview in Current Affairs
:
I'm not criticizing Zelensky; he's an honorable person and has shown great courage. You can sympathize with his positions. But you can also pay attention to the reality of the world. And that's what it implies. I'll go back to what I said before: there are basically two options. One option is to pursue the policy we are now following, to quote Ambassador Freeman again, to fight Russia to the last Ukrainian. And yes, we can pursue that policy with the possibility of nuclear war. Or we can face the reality that the only alternative is a diplomatic settlement, which will be ugly—it will give Putin and his narrow circle an escape hatch…We know the basic framework is neutralization of Ukraine, some kind of accommodation for the Donbas region, with a high level of autonomy, maybe within some federal structure in Ukraine.
The arrogance of this kind of armchair quarterbacking is breathtaking — an American public intellectual dictating territorial and diplomatic concessions to Ukraine. Chomsky uses the word "we" to describe the parties that he imagines will make these concessions to Russia, but the first person pronoun is totally unwarranted — it is 100% Ukraine's decision how much of their territory and their people to surrender to an invader who is engaging in mass murder, mass rape, and mass removal to concentration camps in the areas it has conquered. It is 0% Noam Chomsky's decision.
It would be nice to think that Chomsky is just getting very old here (he's 93!). But sadly, this is milder than things he's done in the past. All the way back in 1977, he was
playing down the Khmer Rouge's culpability
in the Cambodian Genocide:
What filters through to the American public is a seriously distorted version of the evidence available, emphasizing alleged Khmer Rouge atrocities and downplaying or ignoring the crucial U.S. role, direct and indirect, in the torment that Cambodia has suffered.
Meanwhile, Nathan J. Robinson, the editor of Current Affairs and the man who did the interview with Chomsky, has even more repellent perspectives on foreign policy. In
a recent tweet
, he asserted that U.S. defense spending constituted "plotting a genocide of Russian and Chinese people":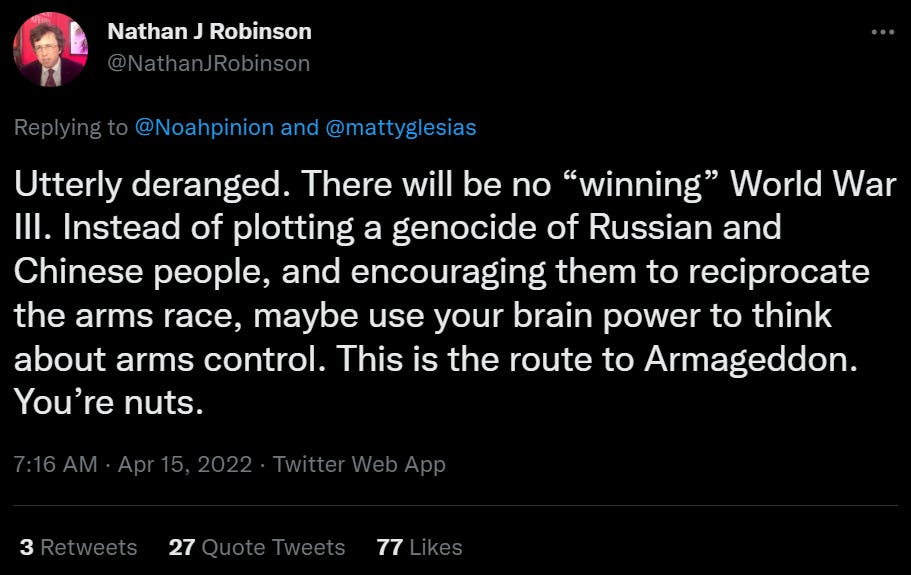 The repellence of this perspective is an outlier, but socialists in general have not covered themselves in glory with their stances regarding Putin's horrific and unprovoked Ukraine invasion. The international committee of the Democratic Socialists of America, for example,
opposed military assistance to Ukraine
(without which the country would probably have fallen), and also
opposed sanctions on Russia
. Alhough Bernie Sanders — the patron saint of the revived American socialist movement —
has been quite good
on the Ukraine war, Ilhan Omar and Cori Bush did join a gaggle of Trumpists in the House of Representatives to
oppose a ban on imports of Russian fossil fuels
. Writers at the socialist magazine Jacobin have
continued to partly blame the U.S. and NATO
for the war. And so on. Foreign policy analyst and Middle East expert Ibrahim al-Assil summed the situation up well in an exasperated thread shortly after the Russian invasion began:
Ibrahim al-Assil إبراهيم الأصيل @IbrahimAlAssil

1/13 American progressives are facing an intellectual dilemma. For years, they focused on criticizing US foreign policy. In part because of the anti-capitalism perspective, but also because they, undeliberately, bought into both imperialism & American-supremacy. I'll explain:
February 28th 2022
1,951 Retweets7,226 Likes
(When he says "progressives", he's really talking about socialists; on the whole,
Democratic voters are very strongly opposed
to Putin, Russia, and the invasion.)
This is not to say, of course, that the socialist Left has been as bad as the Trumpist Right in this episode. It has not. But I would expect better of the socialists than of the rightists — or perhaps I should say that I would hope for better.
That — and the fact that people who sympathize with socialism are probably a lot more likely to read my blog than people who sympathize with Trumpism — is why I'm taking the time to vent my exasperation with socialists instead of ranting on and on about why Tucker Carlson & co. are bad.
Before the war hit, socialists were sort of
pivoting to foreign policy
. Their domestic economic agenda had been mostly superseded by the Biden administration's bold initiatives — and when those bold initiatives were rejected by Joe Manchin and received only lukewarm support in the polls, it showed that a President Sanders would have fared no better. Foreign policy, however, is an area where there's a lot more agreement between mainstream liberals and conservatives, and so presents a more attractive wedge issue that socialists can use to denounce establishment Democrats. And the battle against the Iraq War was one of the main things that revived the American socialist movement, so it made sense to play to their strengths.
Then two things derailed that pivot. The first was Biden's withdrawal from Afghanistan, which put an end to America's post-9/11 "forever wars" in Muslim countries. Next, the war in Ukraine cast the U.S. and NATO firmly in the good-guy role, swooping in to give the plucky Ukrainians the tools to defend themselves against imperialist aggression and atrocity. Suddenly, socialists' pseudo-Chomskian framing of foreign policy — that the world's wars are caused by U.S. imperialism driven by manufactured consent and the greedy military-industrial complex — looked out of touch with reality,
even to socialists in Europe
.
And it
is
out of touch with reality. But it's not the only part of the socialist worldview that has veered dangerously into fantasy-land in the years since Bernie Sanders' presidential campaign breathed new life into the movement.