Mother of 4-year-old killed in dog attack speaks out
Mother of 4-year-old killed in dog attack speaks out
By Brooke Taylor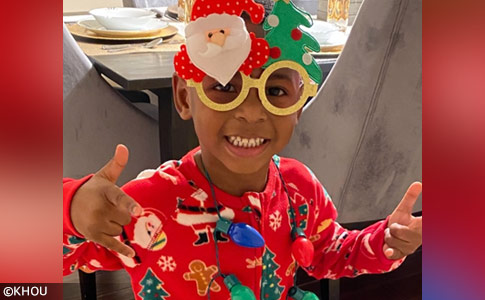 HOUSTON, Texas (KTRK) -- The mother of a 4-year-old boy mauled to death by a pack of Pit Bulls in February speaks out for the first time.
Daijah McClay said her son, Drué Parker, stayed with her aunt in Baytown for the night. He was supposed to come home that afternoon before she got the phone call that would change her life.
She was like, 'I'm so sorry.' I said, 'What happened?' And she said, 'Drué got beat by the dogs," McClay said. "After that, she kept crying on the phone."
McClay said the dogs belonged to her aunt's husband. While she said they never gave her reason to believe the dogs were aggressive, a sign was on their door warning otherwise.
"He just woke up," McClay said. "He was looking for my little cousin. She wasn't in the room. He opened the door. She was feeding the dogs as soon as you open the door. They said she told him to go back in the room."
That's when the ambush began before moving outside. Surveillance footage from a neighbor captured the horrifying attack.
"One jumped on him. Another one, and another one," McClay said.
Animal control seized the dogs in February 2022.
Animal control euthanized all four dogs after the attack.
The attack occurred around 7:40 am on February 23. Drué was rushed to Baytown Hospital, where he later died. Yahir Martinez witnessed part of the attack and called 911. "The kid was in the dog's mouth," Martinez stated at the time. "That's what those dogs are meant to do. Lock their jaw. They bite and they lock their jaw. Once they do its difficult for you to get them to unlock their jaw." Another neighbor said the pit bulls could not be removed until the little boy stopped moving.
Baytown Police and Fire audio archives at Broadcastify.com indicate the attack occurred at a home in the Bramor Subdivision. The
dispatcher tells Fire and Police
, "Pretty hysterical caller [saying] pit bulls killing each other," she said. "There is supposed to be five of them," she said. "They are concerned about the children going to the bus stop soon." Also, "It sounds like possibly one of the neighbor's stabbed one of the dogs." No other information has been released.
Evening Updates
KPRC spoke to Yahir Martinez who
witnessed part of the attack
and called 911. Martinez was shaken by the attack. "Being a baby and having pampers on, it was jaw-dropping," he said. "I guess part of his face was missing, that's what really got me." Neighbors described the four dogs -- two adults and two puppies -- as pit bulls that were known to be friendly. KPRC also showed home surveillance video that captured one of the pit bulls two minutes before the fatal attack.
KTRK also spoke to Martinez. He had
just arrived at his boss' house
when he heard a woman scream next door. "I did not hear the baby. The baby was totally unconscious. All you hear is the dogs growling and like biting. She was really upset," he said. "She did not know what to do." The child was the woman's nephew, who had been staying at the residence. KTRK also reported that the vicious attack was captured on the surveillance camera but was "too troubling to air."
McClay shared videos of her son, who she said was always smiling, kind, larger than life, and loved to perform for the camera.
"He was talking about his birthday coming up," McClay said. "He was ready for his 5th birthday party and kindergarten."
McClay still is in communication with her aunt and her husband. When asked if she blames them, she said there are a lot of mixed emotions.
McClay hopes her son's story can make a difference and prevent other families from similar tragedies.
Check the environment you let your kids go, no matter who it is, go always to make sure it's safe," McClay said.
Last edited: