Mobile Skins
All skins are now mobile friendly by default. The old "fixed width" skins have been removed. If you'd like to browse on your phone with a full width version of any skin just scroll to the bottom of the page and click "Desktop Mode"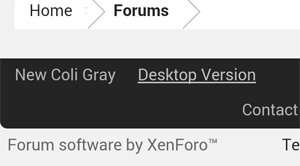 To change skins
- in the same lower left hand corner- click the skin name you are currently using.

New Skin
Our Senior Architect
@Rain
has created yet another amazing skin called New Coli Gray. :blessedahh:It's sleek, smooth and not as bright as our default skin.
Rep is back
if you didn't already notice. And since I have everyone's attention - if you're being targetted by a rep gang or theres an e-bully leaving you mean messages - simply goto your
Alert Preferences
and disable Reputation. You won't receive another rep message.

Also, if you're using multiple accounts for rep purposes

Last warning
Coli Cash & Stock Market

It's Coli Cash stimulus time. :blessedmoney:$25k for all. :blessedmoney: Also, FYI the Stock Market has been repaired.

Last edited: