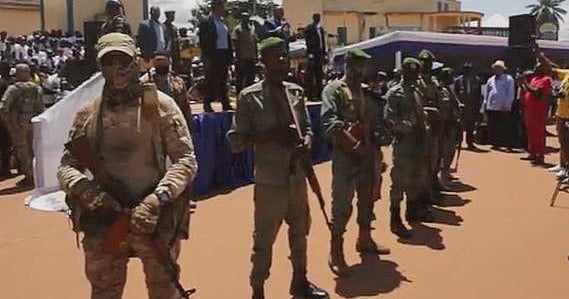 A U.N. report says Russian and domestic forces killed civilians in an African mosque. CBS News' investigation into the Wagner Group has found the truth even more gruesome.
www.cbsnews.com
Wagner's grip on the Central African Republic​

Just one year earlier, there was another massacre, but this one was thousands of miles from Ukraine in the Central African Republic town of Bambari. There were no shocking images and no global spotlight, however, as the media are not welcome in CAR.

No international prosecutors arrived to document the mass-murder of civilians, and no one stepped forward to implicate Wagner mercenaries.

Faustin-Archange Toudéra has been the president of CAR since 2016. He's protected by Wagner gunmen and, in exchange, the Russian company gets contracts to mine gold in the country.

Masked Wagner Group mercenaries, along with domestic security agents, stand guard during an event as Central African Republic (CAR) President Faustin-Archange Touadéra speaks on stage, in September 2022. CBS News

The story Wagner spins is that the mercenaries are there to train CAR soldiers and help them crush rebel groups that want to overthrow the president. The reality is that the Wagner Group has captured the country so completely, that it can act with impunity, and it stands accused of using horrific violence to ensure there's no competition for its revenue stream from local gold merchants.

CAR is a country so gripped by fear that when a special government commission of enquiry was set up to investigate alleged human rights abuses, not a single atrocity was reported.

But behind the fear and intimidation, there's the truth.
The Bambari massacre​

CBS News has pieced together an account of the February 2021 massacre in the gold mining town of Bambari through eyewitnesses, whose names have all been changed to protect their identities. One of them is Madina, who fled her home in CAR for neighboring Cameroon after the Russian mercenaries attacked Bambari and seized control of her family's gold trading business.

Workers mine in an open pit at the Ndassima gold mine in the Central African Republic. The region is peppered with gold mines, most of which were small, artisanal operations before Russia's Wagner group moved in. CBS News

Bambari is surrounded by artisanal gold mines that supported the local community for years. Madina used to live in a large complex of homes, but now she's confined to a tiny mud hut in the town of Garoua-Boulaï, just across the border in Cameroon, where there's only space for a single bed.

Sitting on it, she told CBS News it was around lunchtime on February 15, 2021, when the "white Russians came and destroyed Bambari."

Madina, a refugee from the neighboring Central African Republic, lays on her bed in the mud hut where she's found shelter in the bordertown of Garoua-Boulaï, Cameroon, as she speaks with CBS News in April 2023. CBS News

They just started shooting everywhere, for no reason, without talking to anyone or asking any questions, she told us. Madina said she was so terrified that she hid under her bed for three days without eating or drinking.

"They were shooting us from the ground, and planes fired from the sky," she said. "So many people died, it was hard to count."

Bambari is a mostly-Muslim community, with very specific rituals for burying the dead. Madina's job in the aftermath of the killings was to wash the bodies of the women who'd been gunned down.

Her son Usman was also there that day. He said the bloodbath began shortly before midday prayers.

"To say 'killing' is an understatement. It was total carnage. Like Armageddon," he told us. "They spoke Russian. Even Chechen. Some wore masks and had long beards."

A photo included in a June 25, 2021 letter from a United Nations Panel of Experts on the Central African Republic shows damage from gunfire to the Al Taqwa mosque in the town of Bambari. United Nations

CAR authorities claim there was an operation at the time to root out rebels, but some of the dead were found at the local Al Taqwa mosque, and photos taken after the massacre show its walls pockmarked by gunfire.

Those images were included in

a United Nations report

, drawn up by a panel of experts on the Central African Republic, that found both CAR government troops and the Russian forces shot civilians in the Bambari mosque on February 15, 2021, "despite the known presence of civilians and without respect for the religious nature of the building."

"According to eyewitnesses met by the Panel, no efforts were made to distinguish between civilians and fighters," the U.N. report said, adding that both the domestic troops and the "Russian instructors entered the building and continued to shoot inside the mosque as confirmed by photographic evidence. According to local sources, there were 17 victims from the fighting, including at least one woman hit by a stray bullet. Although some of the victims were indeed UPC [rebel] fighters, the Panel was also able to confirm that at least six people who died were civilians."

A photo included in a June 25, 2021 letter from a United Nations Panel of Experts on the Central African Republic shows damage from gunfire and a scorch mark on the carpet inside the Al Taqwa mosque in the town of Bambari. United Nations

CBS News' investigation has found that it wasn't just the Bambari mosque where civilians were killed that day, however. Witnesses say people were gunned down indiscriminately right across the town.
Families destroyed​

Many of the bodies were taken to a local pharmacy that was turned into a makeshift clinic. The facility was run by a local man known as Moubarak. He meticulously counted the bodies and recorded the names of more than 100 people killed that day, most of them civilians.

"Moubarak," a local man who documented the mass-murder of civilians in the Central African Republic town of Bambari in February 2021, and hasn't been seen since his abduction not long after. Handout/CBS News

Not long after that, Moubarak was abducted. He simply disappeared, along with his list — his evidence. His grieving family presume he's dead. They even held a small funeral to mourn him.

Usman told us one of the names on Moubarak's list was that of his 25-year-old brother, who was running from the gold mine to help their mother and sister Alzina when he was shot and killed.

"With the Wagner Group, there is no difference between civilians or army, male or female. There was a woman shot dead on the road and my brother was running to my mother to raise the alarm," Usman told CBS News. "A sniper shot him as he was running. He was a civilian."

A family photo shows the 25-year-old brother of "Usman," whom Usman said was gunned down by Russian Wagner mercenaries as he tried to run to alert his mother and sister in the town of Bambari, Central African Republic, on February 15, 2021. Family handout

Alzina, Usman's sister, also escaped that day. She had a blank look on her face as she recounted what happened.

"When they entered our house, they ordered all the men to step out. Some were arrested, others were killed on the spot," she said. "Many did not come back."

Alzina was taken to a Wagner base, but the memories of what happened there were too traumatic for her to speak out loud. At that moment our interview was interrupted, and we had to move to a different location for security reasons. Alzina's brother picked up the story. She was raped, Usman told us later, and that carries a terrible shame in their community, which makes it almost impossible to talk about.

"She begged me for forgiveness and said she might as well be dead now," he said.

We met another of Usman's sisters who suffered a similar fate.

"They raped her in our home… it became Wagner's house, where they drank and carried out those heinous acts," Usman said.

The women haven't spoken about it since, but it's clear that Usman carries the weight of both of his sisters' pain. He frequently broke down weeping during our interviews.

"What has my family ever done to Vladimir Putin?" he asked. "When is the international community going to remove Wagner from our land?"

It is an achingly familiar cry half a world away in Ukraine, where people wonder how many more lives Putin's bloody war will claim, and how many names will be added to the staggering list of victims of Russia's and Wagner's alleged war crimes.

Asked to comment for this story, the Wagner Group dismissed CBS News' questions as "boorish and provocative," and insisted the company "did not commit these crimes."

"This fact can be confirmed by the documents in the possession of the government of CAR," Wagner's statement said. "We therefore ask you to address the government."