The Children Left Behind by Long Covid
Hunter Reinard and Lincoln Brockmeyer Photographer: Daniel Lozada for Bloomberg Businessweek
As the world pretends the pandemic is over, at least a half-million children in the U.S. are struggling with the mysterious disease.
By
Anna Edney
May 4, 2022, 5:00 AM EDT
Updated on May 4, 2022, 1:34 PM EDT
Lincoln Brockmeyer folds his lanky 6-foot-4-inch frame onto the examination table as he explains to the pair of doctors that he feels tapped out, his energy totally sapped. Some days, he says, he needs a nap to make it through the afternoon. Worse than the bone-tired feeling he can't seem to shake is the constant pain in his legs and the sensation that each one weighs a thousand pounds. He tells the doctors that he's lost weight—at one point he was down 30 pounds, to 148. He can't run without getting lightheaded, he says, and every time he stands up he gets deep purple spidery veins on his arms and legs. He loves playing basketball, but not when his body hurts like this.
"I'm trying to stay optimistic," he says when the doctors inform him he's got all the signs of long Covid. They're telling him this in March, and if he wants to get better he needs to take it easy. That means no basketball for a while. Lincoln hates hearing this. Still, they start hatching a plan—something none of the other doctors he's seen have been able to offer. It's too late for what would have been his freshman season of high school, but they're hopeful he'll be back on the court in time for his sophomore year. "We've got you," says
Amy Edwards
, a pediatric infectious diseases expert who runs the long-haul Covid clinic at University Hospitals Rainbow Babies & Children's hospital in Cleveland.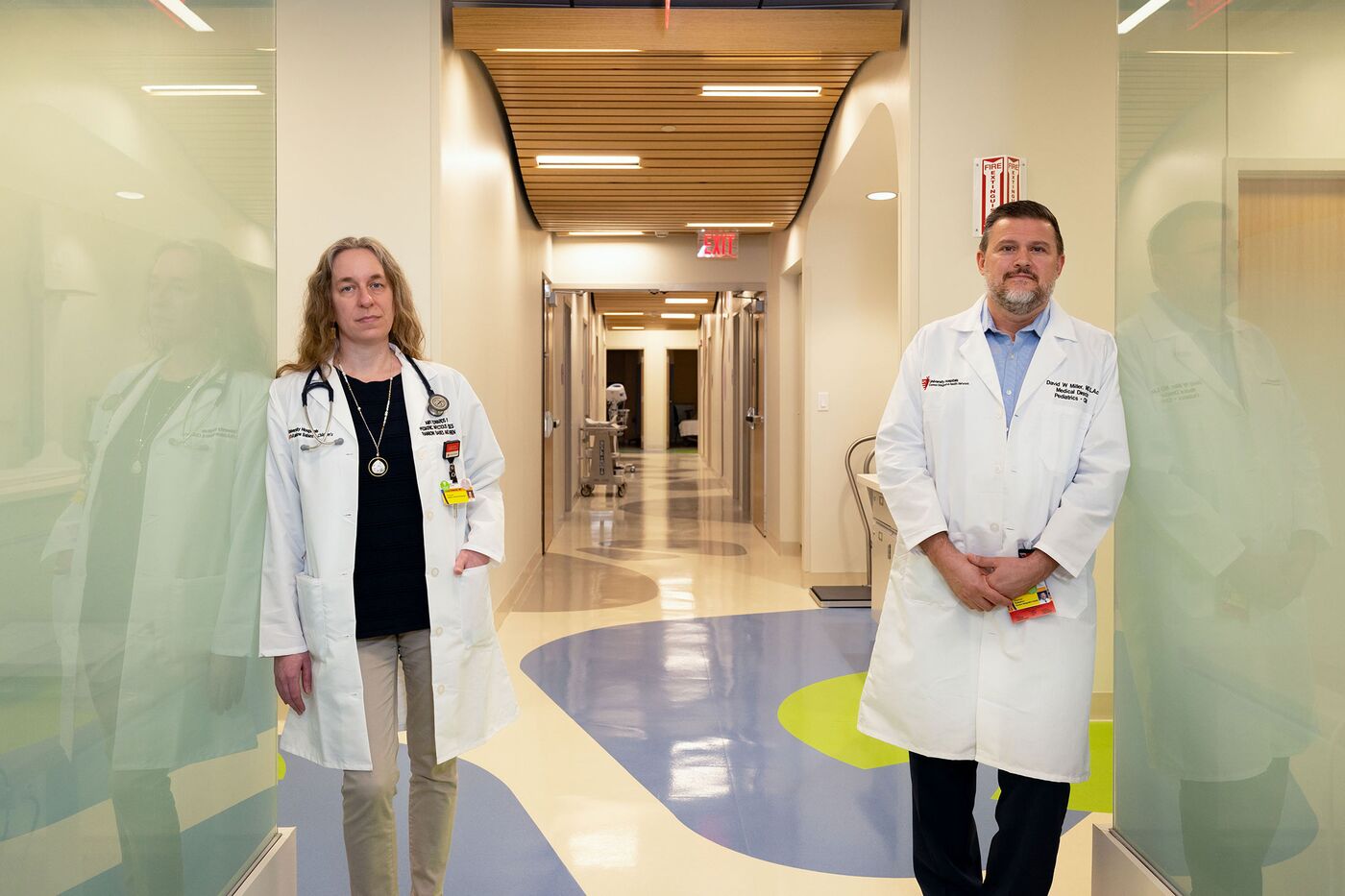 Edwards and Miller
Photographer: Daniel Lozada for Bloomberg Businessweek
The U.S. and the world are trying to move on from Covid-19. Everyone is tired of even thinking about it. The Centers for Disease Control and Prevention has effectively given up on trying to impose collective measures to control the virus. Even people who've been vigilant are ditching their masks. And, yet again,
cases are rising in the U.S.
More cases will mean more long Covid, including pediatric long Covid. Estimates of the number of children who face long-term symptoms are far from precise, but they probably range from 5% to 10% of those infected with the virus, says Daniel Griffin, an infectious diseases expert at Columbia University who treats Covid patients and hosts a
weekly podcast update
on the disease.
Even at the lower end of the estimates, that translates to more than a half-million children of the 13 million so far infected.
(Studies of infected adults indicate that an estimated 10% to 30% may have long Covid.)
Up until last year, Lincoln, now 15, was a star forward on his middle school basketball team in Cuyahoga Falls, Ohio. So good, in fact, that high school coaches in the area were noticing his talent. In May, Lincoln's parents moved the family to Copley, a small town west of Akron, so Lincoln could play on a team his parents believed would give him his best shot at success. "I'm going to brag on my kid a little bit," says his father, Nate, who's also sitting in the examination room. "He's a stud basketball player."

But when Lincoln was handing out Halloween candy last year, he felt cold symptoms coming on. He lay down and drifted into an uneasy sleep. His dad says Lincoln's fever spiked to 104F and his breathing became labored. Lincoln tried pushing through his basketball tryouts the following week but couldn't keep up. After missing a few days of school, he forced himself back. But when he noticed blood in his urine, his parents took him to the emergency room. Doctors ran tests over the course of a two-day hospital stay, including a Covid antibody test. The results showed only that Lincoln had had the illness at some point.
He filed through a round of appointments with specialists in oncology, pulmonology, and rheumatology, but none of the doctors could pinpoint a specific reason for his extreme fatigue. He stopped going to school again in November and was barely able to get out of bed until mid-January. One doctor put him on a powerful and potentially dangerous immunosuppressive drug called methotrexate that helped him regain enough energy to resume classes. Another urged his parents to take him to see pediatric long-Covid experts at Rainbow Babies & Children's hospital. It took more than a month to get an appointment.
"Nobody knew what to do with him. It was very frustrating because I was like, 'I don't know what to do at this point. Nobody's believing me' "​
There isn't much known about who gets long Covid or why, which puts it in a frustrating category of mysterious illnesses that occur after infections such as Lyme disease or mononucleosis. The National Institutes of Health is working on answering these questions about long Covid, but the findings won't be available for at least another two years. And even that research will probably just scratch the surface of understanding.
Meanwhile, many pediatricians still don't take seriously the sometimes amorphous complaints of their young patients, perhaps suspecting they're merely trying to avoid school. "They're told, 'It's all in your head. You're just depressed,' " says David Miller, a pediatric integrative medicine specialist who sees long-Covid patients with Edwards at Rainbow Babies. "But now we have so many of them. Not all the kids are trying to get out of school."