Ben Simmons and the Philadelphia 76ers: The evolution of the offseason's most complex saga
RAMONA SHELBURNEESPN Senior Writer8:00 AM ET15 Minute Read
Is there hope that Ben Simmons and 76ers can repair relationship?
Adrian Wojnarowski shares the latest on talks between Ben Simmons and the 76ers.
AT FIRST GLANCE there was nothing out of the ordinary about the call Philadelphia 76ers general manager Elton Brand received a few minutes before 7 p.m. on Monday night. Agent Rich Paul was on the line, for probably the third time that day.

That had become standard as the Sixers and Paul's client, Ben Simmons, played out one of the longest, most frustrating games of poker between a franchise and its disgruntled superstar the NBA has seen in years.

After months of a mostly unproductive staredown, Brand received a call and text message from Paul, informing him that Simmons had ended his two-week, unpaid staycation in Los Angeles and was outside the door of the team facility, reporting for a COVID-19 test.

Simmons had shown up to face an organization and a city he'd let down in the playoffs last season -- something many in the organization doubted he'd ever do.

"I don't know if he can face the team or the fans after everything that happened last year," one source close to the situation puts it.

But there he was in Philadelphia on Monday night, this transcendent player whose confidence had unraveled to such an extent he has sworn all summer he'd do just about anything except face the people who witnessed it.

The Sixers didn't have time to ask questions. They had to hastily arrange for the testers to come back to the facility, according to sources close to the situation.

Simmons wasn't giving away any answers, either.

Was he actually back? Will he play in Friday's preseason finale in Detroit? Or was he just reporting to stem his financial losses?

Simmons' side had been dealt a blow the previous week when the NBA and players' union issued a memo stating a player without a "reasonable excuse" will not be paid for games he does not play. Previously, the collectively bargained league memos had used slightly softer language, like "would not" be paid, which Paul's agency believed left room to argue Simmons could ask to be paid for the salary he lost if and when he was traded, sources said.

That memo -- issued while Simmons was across the country, hunkering down for a protracted absence he thought would create leverage, or at least incentive for the team to trade him -- had felt like the kind of small event that could have a giant ripple effect.

But in a meeting with Brand, head coach Doc Rivers and president of basketball operations Daryl Morey on Tuesday, Simmons offered little insight -- and has offered his teammates even less.

The only explanation he has offered them throughout this process came months ago, when Paul invited everyone to his house in Beverly Hills.

Much has been made about that August meeting. Snippets of the Sixers' message to Simmons have been revealed and dissected.

But it's what Simmons said to them that mattered most.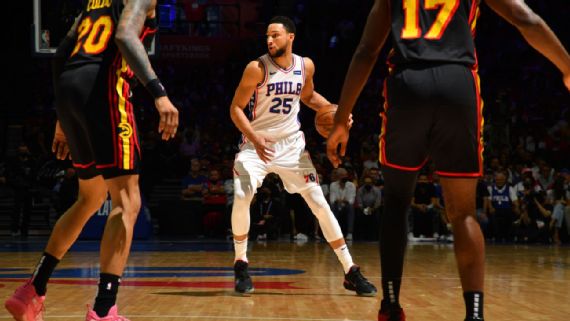 Jesse D. Garrabrant/NBAE via Getty Images
ON THE MORNING of June 20, less than 10 hours before the Sixers were due to host the Atlanta Hawks in Game 7 of their second-round playoff series, Simmons was in limbo.

"They're not letting me play," he told his brother Sean Tribe and several teammates via text message.

Simmons was being held out of the team's shootaround, he told them, due to a possible exposure to a team masseuse, who'd returned an inconclusive COVID-19 test.

Several players were questioned about whether they'd seen her that morning, but only Simmons said that he had.

"He answered the question honestly, without thinking of the implications," says one source close to Simmons.

But according to multiple sources, many within the team questioned whether Simmons had actually seen the masseuse -- or was just trying to get out of playing as he battled the basketball version of the yips. Simmons had taken just 10 shots combined in Games 5 and 6 -- he'd averaged 11.6 shots a game over his career -- and had missed 16 of his previous 23 free throws.

"If you're trying to prepare for Game 7, you don't really want to be dealing with that in the morning," a source close to Simmons says. "Especially when the spotlight is already on you."

His confidence had already been shaken. The skepticism from within made everything worse.

Later in the day, the staffer and Simmons' test results came back negative, according to sources, and he was cleared to play in the game. But he wasn't in a good place, and neither were the Sixers.

"He was thrown," the source says.

Simmons was tentative all game, taking just four shots. But he contributed in other areas to help Philadelphia keep it close.

Then, The Play.

With 3:35 remaining and the Sixers down 88-86, Simmons took the ball in the right post. Backing down Hawks forward Danilo Gallinari with three power dribbles with his left hand, Simmons spun baseline, leaving Gallinari off-balance and leaning in the opposite direction. He took one more dribble. There was four feet of distance between him and the basket. Trae Young, who'd been guarding Matisse Thybulle on the other side of the baseline, faked a contest -- but barely.

The 6-foot-10 Simmons was wide open for a game-tying slam over the 6-foot-1 Young, whose only choices were to let him dunk it or foul him.

Instead, Simmons passed.

An audible gasp roared through the Well Fargo Arena. The unexpecting recipient, Thybulle, went up for his own dunk but was fouled by a rotating John Collins and Gallinari.

"That's when you know the game is in your head," said color commentator and former player Jim Jackson. "That's a dunk for Ben Simmons right there. ... You gotta shoot that shot. Be confident."

Thybulle went 1-for-2 at the line.

The Sixers lost 103-96. Simmons, who ended the game with five points -- on 2-for-4 shooting -- 8 rebounds and 13 assists, didn't play for the final 54 seconds.

After the game Rivers, who'd repeatedly praised Simmons and had long tried to minimize the impact of his shooting woes, demurred when asked whether the team could win a championship with Simmons at point guard.

"I don't know that question or the answer to that right now," Rivers said. "So I don't know the answer to that."

Embiid, who'd openly campaigned for Simmons to win Defensive Player of the Year, despite his own desire to win it, was asked if there was a turning point to the game.

"I thought the turning point was when we -- I don't know how to say it -- but I thought the turning point was just, we had an open shot and we made one free throw," Embiid said.

There was no camouflaging what happened. Everyone saw the play and the series.

Simmons faced the cameras after the game with stoicism. "I had a bad series," he said. "I expect that [criticism]. It's Philly."

The quotes from Rivers and Embiid have been cited all offseason as a tipping point. But those close to Simmons acknowledge they were more of a final gut punch.

Just like his confidence, his relationships within the Sixers had been eroding for some time.



AP Photo/Matt Slocum