Joined

Dec 24, 2014
Messages

24,914
Reputation
Daps

105,272
Reppin
Jack Rocha is the first black woman elected federal deputy in Espírito Santo
The president of the Workers' Party in Espírito Santo takes office in the National Congress in 2023 and promises to stick to the anti-racist and feminist agenda
Eduarda Mouro
Vitória | October 3, 2022 | 00:39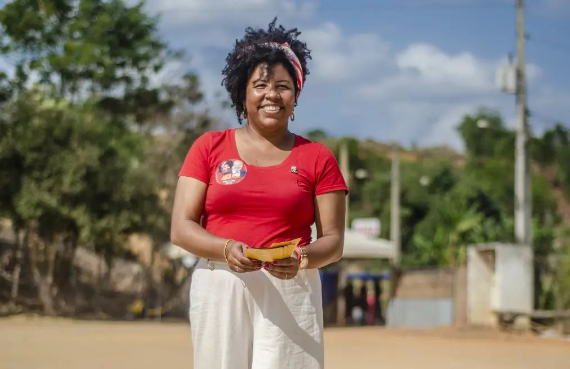 Having been born in Colatina, Rocha has had a strong presence in the Workers' Party throughout the state. Photo: Instagram
Known for active participation in social movements, the president of the Workers' Party in Espírito Santo, Jack Rocha, is the first black woman elected federal deputy in the history of the state. With 51,317 votes, she was chosen this Sunday (2) to occupy the seat in the Chamber of Deputies.
Rocha says that "this moment represents, to me, the strength of resistance and the configuration of democracy. I can say that the majority of the Brazilian and Espírito Santo population is now being represented, a majority formed by women and black people".
The Workers' Party candidate was the first woman to ever preside over the party in Espírito Santo and, according to her, her struggle has always been to bring social movements into institutional spaces, "transforming Brazil from slavery into a country of opportunities, without racism and without sexism".
Among the priorities as a federal deputy, Jack points out the creation of policies to encourage the participation of women and black people in public spaces. "It's a big challenge, but I count on the base of my party and on the support of Espírito Santo society to represent the needs and fight for the development of the state", she says.
"I would like to be remembered as a local woman who fought to eradicate racism in the state and to reduce violence against women in Espírito Santo. My election is not a milestone for myself, but a milestone for democracy in Espírito Santo".
A militant life
Rocha was born in Colatina, in the north of Espírito Santo, and has always been attentive to the causes of minorities. She joined the Workers' Party in 2004 and, in the following year, took over the Municipal Press Office of Colatina.
After standing out in the countryside, she was nominated to compose the Assistant Training Office of the Workers' Party in Espírito Santo and, in 2010, she moved to Vitória. In the capital, she helped form the Youth Office of the Unified Workers' Central (CUT) and became a founding member of the State Youth Council.
She was also manager of the State Government's Solidarity Economy and Microcredit during the administration of Governor Paulo Hartung and, in 2013, was elected the first youth representative of Espírito Santo in the Workers' Party's National Directory.
In 2018, she ran for governor of Espírito Santo and finished third, with 142,654 votes.
Soon after, she was the first black woman elected president of the Workers' Party in Espírito Santo, and ran for vice mayor along João Coser in Vitória in the 2020 elections, where they reached the second round.
Jack Rocha is the first black woman elected federal deputy in Espírito Santo