Joined

May 10, 2012
Messages

18,429
Reputation
Daps

41,312
'Buy now, pay later' sends TikTok generation spiraling into debt
'Buy now, pay later' is sending the TikTok generation spiraling into debt, popularized by San Francisco tech firms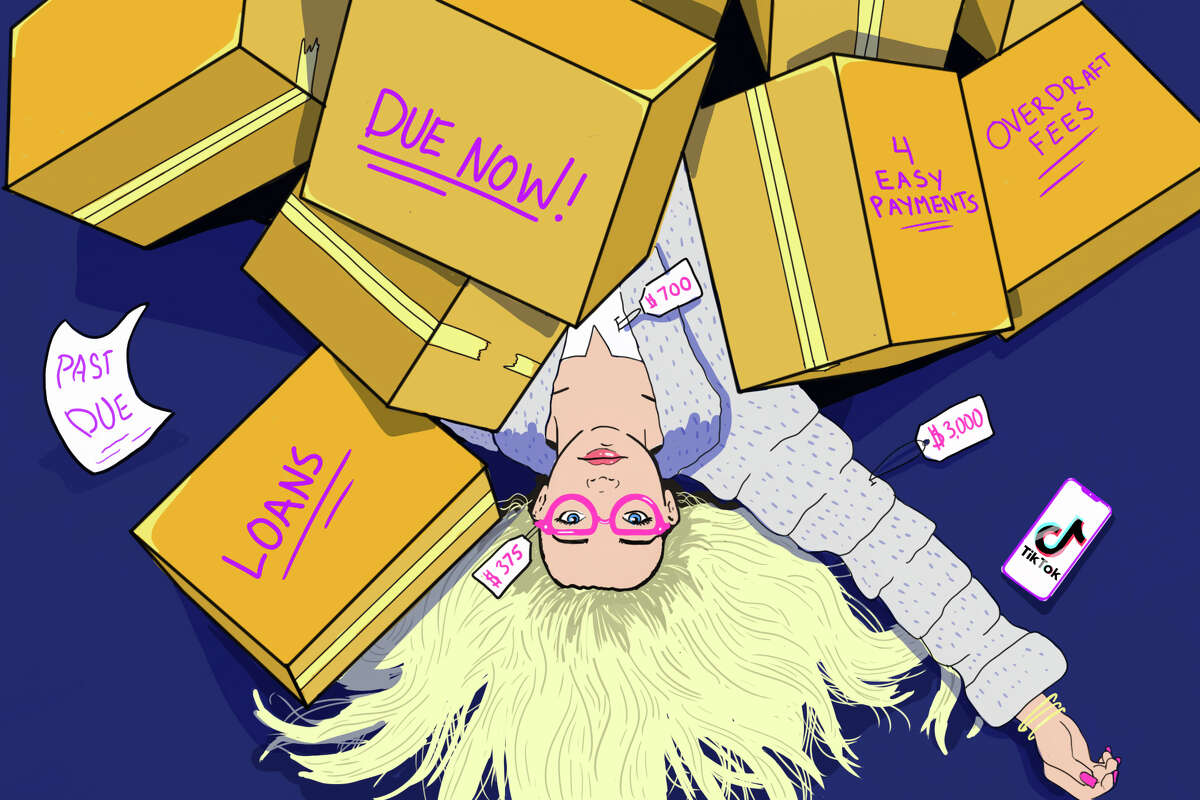 Andy Andersen/Special to SFGATE
Joshua Bote
, SFGATE
May 4, 2022Updated: May 6, 2022 11:56 a.m.
Editor's note: This story was updated at May 5, 2:10 p.m., to correct that buy now, pay later constituted 91% of California consumer loans in 2020, not 2021, and to clarify that lender Affirm does not charge late fees.
Do a quick scan of TikTok and you'll find trendy young people casually blowing hundreds or thousands of dollars on clothes and jewelry, often set to the clattering, bass-boosted din of Florida rapper Saucy Santana's fittingly titled "Material Girl." Plenty of those influencers get the goods they flaunt for free. But if you don't have the followers, or the up-front cash to blow, TikTokers have a tip: Just use "buy now, pay later" services, the hottest new way to take on debt.
You may have seen some of these names — Klarna, Sezzle, Zip (formerly Quadpay), Afterpay and Affirm — pop up as you shop online, presenting an easier, more seamless alternative to having to type out your credit card information again and again. With a few clicks and a small down payment, you'll have what you ordered on hand — all you need to do now is complete your four payments.
The services, also known as point-of-sale loans, are heavily marketed by influencers and brands on TikTok and Instagram. They giddily display their "hauls" from the most popular brands, not just normalizing debt, but actually glamorizing it — and selling it as a way for trend-conscious young people to have all the coolest consumer goods, whether they have the cash on hand or not.
One video, posted in September last year by TikTok user Lillian Bradford, features her in a faux-fur coat and gold earrings. "I was fully under the impression that I only owed maybe $300 max on Afterpay," the text reads. Then a screenshot pops up with her balance: more than $2,000. (In an interview
with the Daily Mail
, the influencer later said the "video was a joke" that she did not anticipate would go viral.)
@lillian.bradford
@Afterpay Australia
♬ mario kart wii race results - sky
This new breed of lending firm bills itself as a friendlier, more responsible way to spend than credit cards; in an interview with SFGATE, an executive from industry leader Afterpay even suggested the loans are just a way to budget better.
The marketing pitch is certainly working. In 2021, Americans spent more than $20 billion through buy now, pay later services, an ever-increasing chunk of the
$870 billion-a-year online shopping pie
.
In California alone, 91% of
all consumer loans issued in 2020
— defined by the California Department of Financial Protection and Innovation as loans for "personal, family or household purposes" such as car, utility or medical loans — were buy now, pay later loans, also known as point-of-sale loans.
Gen Z, in particular, has fallen in love with the short-term loans, spending 925% more now through point-of-sale services than in January 2020. But coupling nearly instantaneous loans with an influencer-addled social media culture that prioritizes exorbitant spending and normalizes debt could be further jeopardizing the financial futures of young people through just four easy payments.